How to Make Emoji Jesmonite Coaster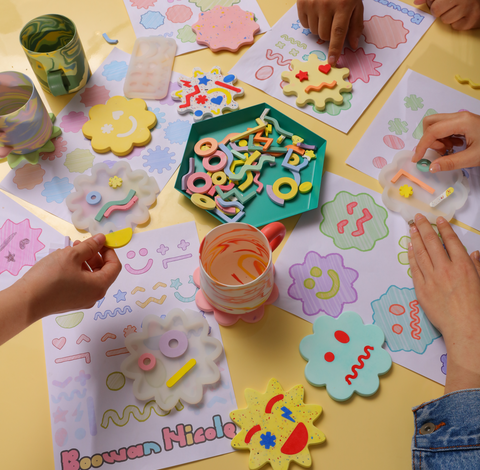 In this article, you will learn how to make an emoji Jesmonite coaster from start to finish. The emoji coaster mold used was designed in Nov. 2022, to be a customizable, 'open-sourced' mold. The concept is to invite its user to easily participate in the design process and have as much unlimited fun as possible.
Why Jesmonite?
Jesmonite is a polymer composite material mixed with quartz stone, marble chips, and mica, which has a reflective texture. It is often used to create sculptures and other three-dimensional works. Jesmonite can be mixed with other materials as a base for painting and can be used as a surface decorative material for buildings. It is considered an attractive new material that can replace other resin materials such as polyester fiber and glass fiber.
Moreover, Jesmonite is light in weight and does not release toxic gases, which makes it a favorite in the contemporary era of green development.
In addition, the finished product made of Jesmonite is stronger than plaster, whiter than white cement, and has more texture. Therefore, it has become a popular hand-made material in recent years.
Preparing Molds Ready to Make Coasters and Ornaments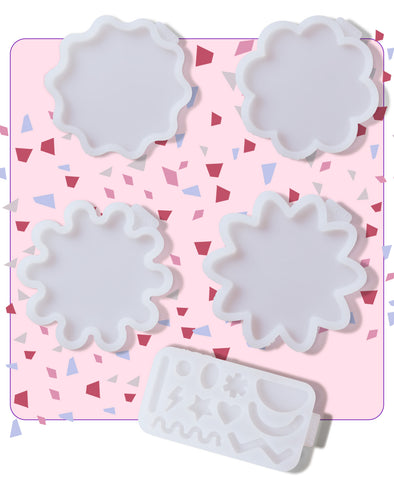 Boowan Nicole's mold is made of FDA approved food grade platinum silicone, which makes the mold last longer, can be used many times, and can be stored for a long time. In addition, they are resistant to high temperatures (-40°C-220°C can be used), tear-resistant, and skin-friendly. More importantly, Boowan Nicole's mold is environmentally friendly.
Making Jesmonite Ornaments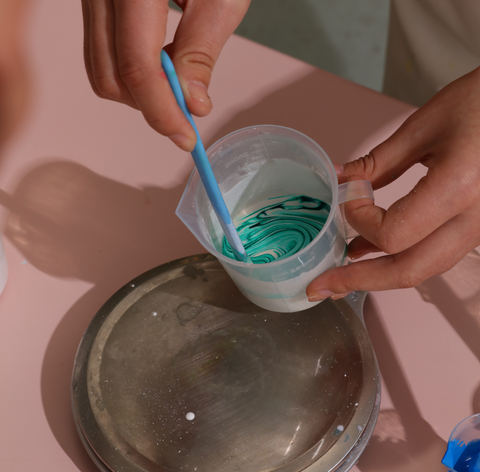 Firstly, prepare a container, and add some Jesmonite powder and water (30g water for every 100g Jesmonite). Then stir it with a blender until there are no powder particles. Next, add a few drops of pigment to the mixed material (according to the color you want to decide how many drops of pigment you need to add, more drops for darker colors, and less for lighter), and stir well with a blender. Then, pour into the mold, if you have de-gas equipment, de-gas prior to pouring. After pouring, slightly stroke the edge of the mold to help the air bubble escape from the Jesmonite mixture. Finally, put the mold with Jesmonite aside to dry and solidify, and be sure to handle it gently to prevent possible deformation, use a try to facilitate the move is necessary. It will take about an hour or so for the liquid to solidify, and then the ornaments can be removed from the mold. Take out the prepared ornaments and set them aside for at least 1 day for max strength.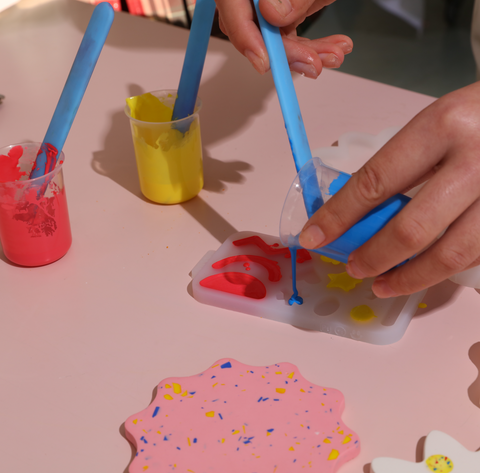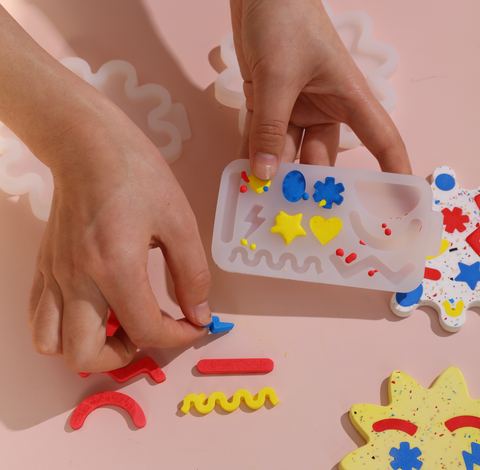 Placing Ornaments
Do as you wish. If you want to put anything else, you are not discouraged! Place any ornaments completed in the previous step into the main coaster mold according to your preferences.
z
Making Jesmonite Coasters
This step is very similar to the steps when making ornaments. First, prepare a container, add about 150g of Jesmonite powder and 45g of water (30g of water per 100g of Jesmonite), and stir with a blender until there are no powder particles. Then comes the step of adding pigment, drop your favorite color according to your preference, and stir it evenly with a blender. After stirring well, pour the material in the container into the coaster mold. Later, stroke the edge of the mold slightly to release the air in the Jesmonite mixture, in case there are air bubbles in the completed coaster. Finally, put it aside to dry and solidify. It takes about one and a half hours to two hours before demolding.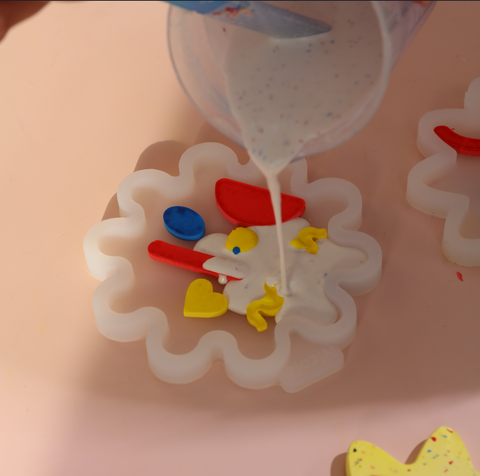 Polishing
Prepare a basin of water and immerse the finished coasters into the water. Start the polishing using the hand-held sanders. Firstly, use the coarser surfaced sander to grind out the terrazzo texture, then use the fine surfaced sander for finer surface finish. Different sanders do different jobs.